Our Last Night in Gisborne
01/01/11 21:07 Filed in:
Family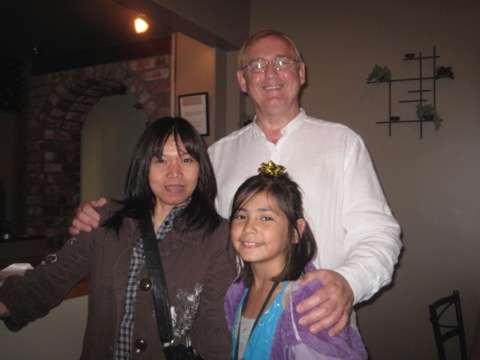 This weekend will be unforgettable for many reasons...
Last night, New Year's Eve, we had the first private preview of
Amiri & Aroha
with our special friends Margaret Thorpe and Derek Allen. It felt almost unreal to see my film on the screen, it has been a dream for so long.
But by far the happiest aspect of the private screening was how much my wife Ooy enjoyed the film. This was so important to me, especially as our life as been turned upside down by the film and Ooy never once complained. Indeed, Ooy really appreciated being involved in film, playing a wedding guest on the final day of shooting.
Today marked our last night in Gisborne after nearly sixteen years. We celebrated in style at Fettuccine Brothers Italian Restaurant. I took a moment to reflect on how many milestones and special occasions we have celebrated at Fettuccine's during our time in Gisborne.
Every year since the New Millennium, we have spent the evening of New Year's Day at the Gisborne
First Day, First Night
celebrations, culminating in a dramatic fireworks extravaganza. There was a definite feeling of saddens for our last firework display in Gisborne!
Click here to see our album of this special night