Amiri & Aroha - The Final Cut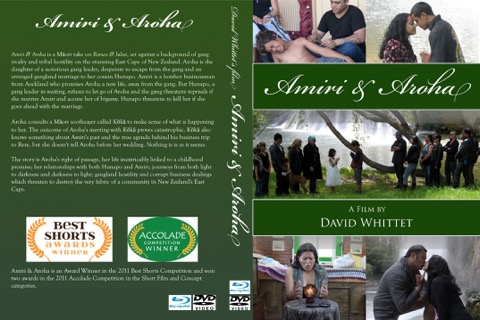 The new artwork for Amiri & Aroha
Five months after the official world premiere, I have at last made the final cut on
Amiri & Aroha
. Since completing the original short in December 2010, I have re-written and expanded the story, we have had a cast change in a key role and two major reshoots during 2011, back to back with the shooting of Amiri's Child.
Now the final cut of
Amiri & Aroha
is complete, we are relaunching on the international film festival circuit. Making viewing copies for film festivals entry proved an opportunity to reflect on the last few year's film making, where
Amiri & Aroha
has become a way of life. From the first germ of an idea in mid 2009, through countless re-writes and two years of shooting, it has been a constantly challenging and demanding journey. I have made so many wonderful friends working on this film and it has been a privilege to work with such an awesome and talented cast and crew.
With
Amiri & Aroha
finished I can concentrate on editing
Amiri's Child
and the promotional video for our forthcoming IndieGoGo campaign to fund the final film in the trilogy. Exciting times lie ahead!
In the commercial cinema, we are used to endless credit titles which can add an extra ten minutes or more to the film's running time. There is often a huge list of "digital compositors". As an independent film maker, I have made very last cut in Amiri & Aroha myself and as this Final Cut Pro screenshot shows, for some of the montage sequences, the compositing was extremely complex.
I have spent more time editing Amiri & Aroha over the past couple of years than I care to remember, but there is a huge satisfaction in having done all the post production work myself!