Mediation? With that pōriro?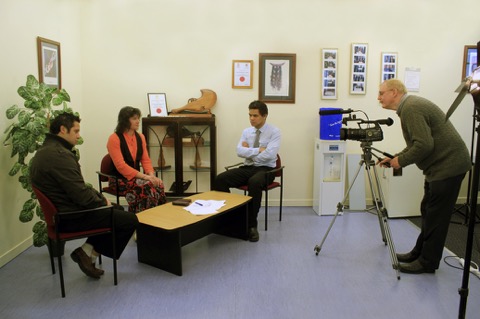 David Whittet directs Shane Luke as Arapeta, Deborah Vallois as the Mediator and John Stainton at Koriata.
When arch enemies Arapeta and Koriata are forced to meet each other for mediation, the sparks are bound to fly. This is the first time they have met face to face since they were children and their confrontation is destined to be explosive. Both are powerful businessmen, chief executives controlling rival power companies and used to getting their own way in a cut throat industry. But both also have a dark history which spills over in the scene.
We first shot this scene in October 2011 and an excerpt from this version survives on the IndieGoGo campaign video.
Shane Luke and Deborah Vallois reprise their roles from the original shoot, acting opposite our new Koriata, John Stainton. Today's shoot was made special by the electric atmosphere between Shane and John as Arapeta and Koriata. John brought a superiority to Koriata, smugly mocking Arapeta and winding him up until he snaps.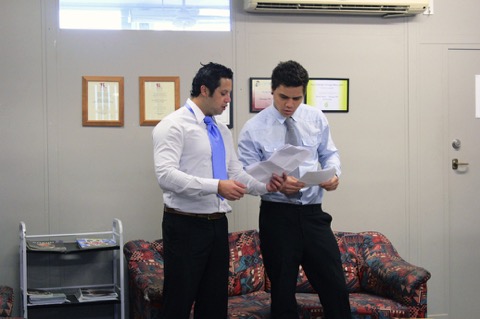 Shane Luke and John Stainton read through the script prior to the shoot.



In a key revision of the scene, Koriata taunts Arapeta that he's dressed up in his Sunday best for the meeting but can't even get his tie right!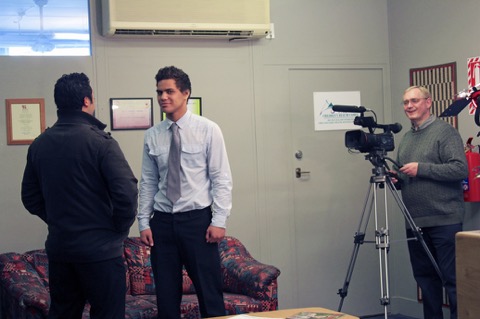 David Whittet directs Shane Luke and John Stainton in the explosive scene where the two arch enemies meet for the first time since childhood.