Tautaru's Arrest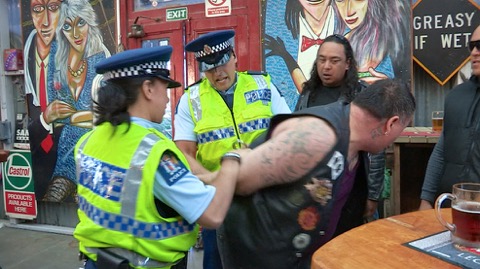 Tautaru is arrested at gang headquarters as his henchmen look on in total disbelief. The New Zealand Police threw everything into the scene and showed actor Walter Walsh (the WIz) no mercy as Tautaru was unceremoniously handcuffed and dragged away!
Tonight was another mammoth shoot at Smash Palace, an atmospheric bar in Gisborne which was the perfect location for gang headquarters. Unfortunately, we only had Smash Palace for one night and it was a huge ask to get through the mountain of scenes at gang headquarters in one night!
The evening started with the New Zealand Police joining us on set to film Tautaru's arrest. The two officers who performed the arrest were brilliant and totally entered into the spirit of the film. We are so grateful the the New Zealand Police for participating in the film and bringing such gritty realism to these all important scenes.
Otherwise, it was a long hard night of filming, ploughing through seemingly endless pages of script to complete the shoot. But as always, we pulled it off and got all the material in the can. But the night took its toll and I have to admit to wondering - if only for a fleeting moment - why I make films!
Watch a first look video of Tautaru's arrest and hear actor Walter Walsh (the Wiz) talk about the experience!