The Best Exotic Marigold Hotel
Every once in a while, a film comes along which strikes such a chord with our hearts that it instantly gains a place in our all time favourite films. For me today, that film was
The Best Exotic Marigold Hotel
.
The Best Exotic Marigold Hotel
is that all too rare combination of a truly touching story, were you get involved with the characters and care about them, with genuinely heartwarming humour.
The Best Exotic Marigold Hotel
tells the story of a group of British retirees who decide to outsource their retirement to India, which promises to be less expensive and more exotic. Each has their own reason to leave (their back stories are cleverly told in the opening moments of the film) and are enticed by advertisements for the newly-restored Marigold Hotel and look forward to a new life. But the Best Exotic Marigold Hotel is not what they expected, the palace is a shell of its former self. The phones don't work, the building is run-down, yet they are forever transformed by their shared experiences, discovering that life and love can begin again when you let go of the past.
Many of the locations in Jaipur and Udaipur are familiar to me as I shot my own film
The Tale of the Indian Merchant
at the railway station in Jaipur and at the palace in Udaipur.
John Madden's inspired direction captures the real feel of India, the chaos, the sounds, you can almost smell the spices in Jaipur's bustling markets. You are right there with the characters.
This is a film to treasure.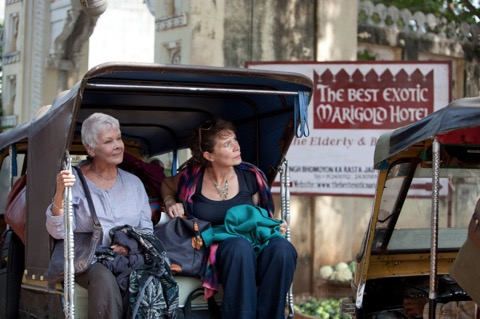 The incomparable Judi Dench with Celia Imrie in
The Best Exotic Marigold Hotel