Amiri & Aroha has taken over my life - again!
10/01/12 18:28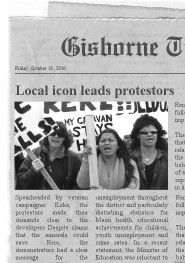 Mockup newspaper headlines for use in the protest march montage sequence

I have been working around the clock again! These last few weeks have been a race against time to get the re-edit of
Amiri & Aroha
completed before we leave for Gisborne next week for the next big shooting session for the
Amiri & Aroha
trilogy. Competition and festival deadlines are looming and I am eager to get as much exposure as possible on the international festival circuit. The new edit is a much stronger film and I believe we can eclipse the success we enjoyed in last year's festivals!
The re-edit has given me the opportunity to experiment with new graphics and to refresh the montage sequences. With multiple layers of digital compositing, these sequences can be extremely time consuming to create, but immensely rewarding when they finally reach the screen!