05/06/11 09:54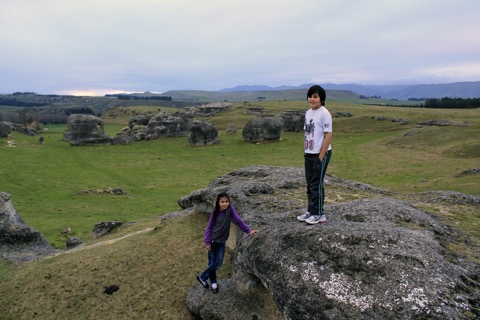 Life has been so hectic recently, with the completion of
Amiri & Aroha
and the excitement of our Best Shorts competition success, that we have not had the chance to explore the Kurow area as we had planned when we arrived here in January. With the Queen's Birthday long weekend off duty, we set out to explore the beautiful Waitaki Valley.
High on our list was a visit to the Elephant Rocks near Duntroon. This magnificent site was used as the location for Aslam's camp in Andrew Adamson's film of
The Chronicles of Narnia: The Lion, the Witch and the Wardrobe
. The location has so much atmosphere; you can almost feel the presence of Aslam and the White Witch hiding behind the rocks!
It is wonderful news that Andrew Adamson is returning to our district to shoot his new film
Mister Pip
in Oamaru in August. This is great news for Oamaru and the Waitaki region. I do hope to have the opportunity to see this great director at work.
Andrew Adamson, who brought us
Shrek
as well as
The Chronicles of Narnia
, is a Kiwi icon and something of an unsung hero. It will be great to have him back home in New Zealand. Regarding
Mister Pip
, Adamson says he started chasing the rights for the book immediately after reading it. "I read it on a flight back to LA and I actually got to the other end and started chasing the rights. It's about the power of imagination, about the power of story. It's about the power of being able to use your imagination to overcome obstacles."
I am really looking forward to
Mister Pip
.