33 Postcards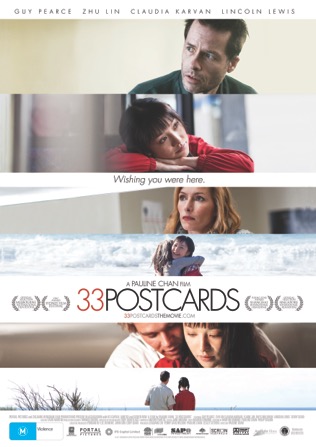 What an amazing year this has been at the cinema! Today I saw another truly inspiring film, demonstrating so eloquently the unique power of the film medium.
33 Postcards
tells the compelling story of Mei Mei (played by Zhu Lin), a 16 year old Chinese orphan whose life has been transformed by donations from her Australian sponsor Dean Randall (played by Guy Pearce). Dean sends Mei Mei postcards that paint an idyllic picture of his family life. Life changes irrevocably for both Mei Mei and Dean when her orphanage choir travels to Australia to participate in an Australian choir festival.
Mei Mei takes seeks out Dean when she arrives in Australia and discovers the shocking truth. Dean is not the park ranger and family man of his postcards, he is in prison with a manslaughter conviction. Yet for Mei Mei, Dean is still her saviour and her last chance of finding a real family.
At the heart of
33 Postcards
is the relationship between Mei Mei and Dean, two lonely souls on the fringe of society. At times it's a heartbreaking right of passage, with Mei Mei caught up in the criminal underworld and Dean a victim of intimidation in prison, but a deeply rewarding journey.
This is independent film making at its very best.
As a footnote,
33 Postcards
won awards at the Melbourne International Film Festival and the Sydney Film Festival. I entered
Amiri & Aroha
in both these festivals. I feel humbled to have been in competition with such a brilliant film. Congratulations to Pauline Chan and her team for an inspiring piece of creative cinema and a very worthy winner!