Talent in abundance at the auditions for Rere's Children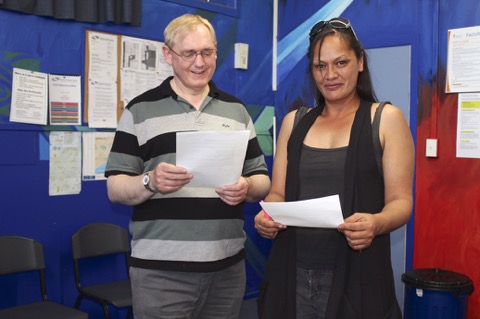 David Whittet with Joelene Hohapata doing a read through at today's auditions for Rere's Children
Once again, there was an abundance of talent at our auditions for the remaining parts in
Rere's Children
trilogy. Today's auditions were the fourth that we have held over the past three years for the
Amiri & Aroha
trilogy. It is so exciting - and immensely rewarding - to discover such raw talent and to bring it to the world. Everyone we auditioned today will have a significant part in
Rere's Children
.
And the auditions were
fun!
With some really entertaining role-plays, it was an enjoyable experience for everyone.
Tonight I have the exciting task of matching the parts to the talent we have discovered and further refining the script to take full advantage of our new actors' potential.
Krystel Pokai and her cousin Geena Pokai read through a scene from Rere's Children.
David Whittet and Casting Director Walter Walsh (right) work through a scene with Bruce Burn, who we cast as the overseas executive brought in to oversea the resurgence of South Pacific Power following Arapeta's dismissal.