Aroha's Swan Song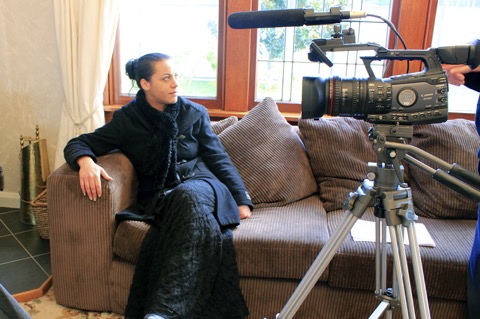 Farewell to Aroha: Kristel Day reprises the role of Aroha one last time as we shoot Aroha's final scene.
There is always a tinge of sadness when an actor shoots their final scene in a production. For Kristel Day, playing Aroha has been a marathon over the last couple of years as the trilogy has unfolded and extended.
We have shared Aroha's tumultuous journey and shared her pain and passion. We first met Aroha as an unhappy child, the daughter of a ruthless gang leader, her life dominated by an arranged marriage to her cousin Hunapo. We have lived through Aroha's right of passage, shared her aspirations for a new life away from the gang with Amiri, felt her sorrow as she is imprisoned by the gang, cruelly separated form her son Arapeta.
So what is Aroha's ultimate fate? Is she forever doomed to be a star crossed lover?
You will have to wait and see
Rere's Children
to find out!
Whilst Kristel Day completed her role as Aroha today, she continues as a producer for the trilogy.