Old scores and a new romance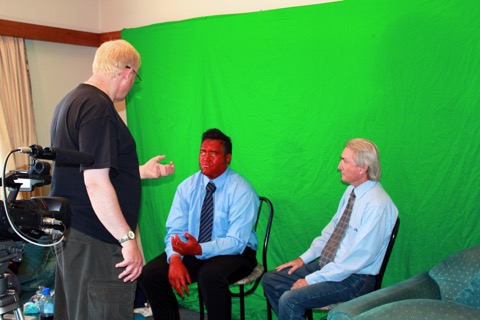 Working with Mike Hollis as Amiri and Warren Philp as his embattled lawyer, Andrew Lamonge
Our motel room became a green screen studio again today for a series of interesting scenes which both conclude
Amiri's Child
and launch the final part of the trilogy, which currently has the working title of
Koriata's Way
.
First up were scenes between Amiri and his sleazy lawyer, Andrew Lamonge, for the teaser scene in Kōkā's crystal ball at the end of
Amiri's Child
. This powerful little scene, where Amiri unceremoniously sacks Lamonge and in turn Lamonge vows revenge, sets up a key plot thread for
Koriata's Wa
y. And Andrew Lamonge has a dark secret of his own which shatters everything and everyone in the gripping conclusion to the trilogy…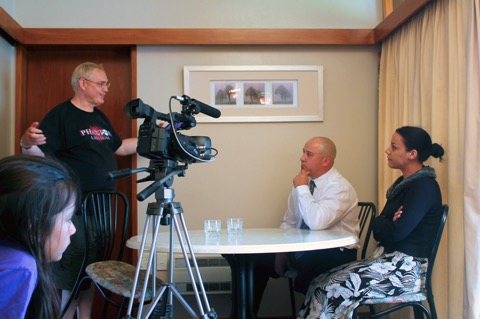 As one relationship comes to an end, another begins…
Amiri has replaced Lamonge with his old business partner Errol Troy. Acting as his minder, Troy advises Amiri to leave the country until his troubles blow over. Little does Amiri realize that this is because Troy has designs on Aroha…
But then Aroha has reasons of her own for leading Troy along…
Like everything else in the
Amiri & Aroha
trilogy, nothing is ever quite what it seems!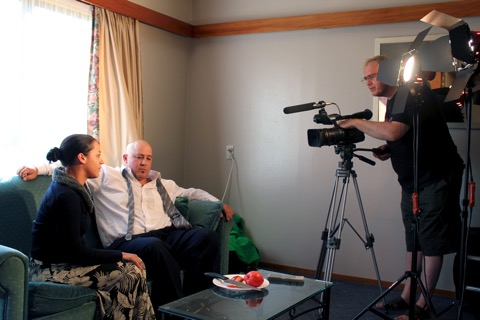 Kristel Day as Aroha and Cory Garrett as Troy when the romance turns sour…