Powerful scenes for the first Day of the July 2012 Shoot - and two rising stars!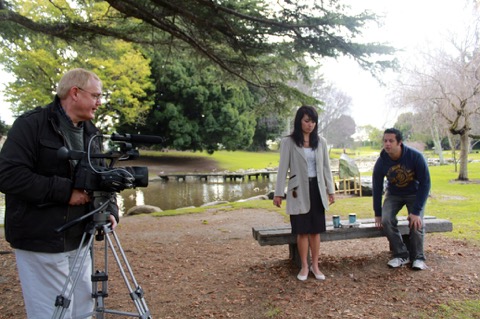 David Whittet directs Ebony Tuhaka as Miriama and Shane Luke as Arapeta in a tense scene at Gisborne's Botanical Gardens.
The first day of a new shoot is always exciting and nerve wracking in equal measure. It is also great to catch up with old friends; the
Amiri & Aroha
cast and crew have become an extended
whānau
.
Today and tomorrow I am working with Shane Luke as Arapeta and Ebony Tuhaka as Miriama, tidying up some voice overs and lip sync work from
Amiri's Child
, and filming some tense and highly emotional scenes for both
Amiri's Child
and
Rere's Children
.
Shane and Ebony were both in fantastic form for the two park bench scenes which we shot in the botanical gardens at Gisborne today. Our first scene was a reworking of the scene in
Amiri's Child
where Arapeta meets Miriama in the park after his explosive meeting with Koriata at the mediator's office. The second scene was a particularly demanding scene as Arapeta and Miriama's relationship is destroyed by the return of Amiri.
There was tremendous chemistry between Shane and Ebony in both these emotionally charged scenes. I believe the Amiri & Aroha trilogy will prove a big break for these two very talented actors. Discovering new and raw talent is one of the great joys on Indie film making and Shane and Ebony are definitely stars of the future.