Amiri's Child takes shape in Post Production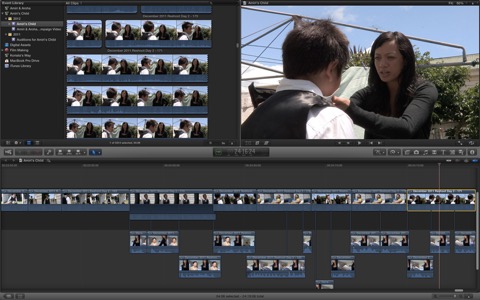 Editing an iconic scene in Final Cut Pro X: "I want to be a gentleman!"
Editing is perhaps my favourite part of the film making process, as it is in post production that the film takes shape and develops dramatic intensity. As the film comes together, shots cease to be clips of film but a very real part of the drama.
Film making is so often a compromise. The film maker has to create their art surrounded by a traveling circus of actors, technicians and equipment. It is only in the peace of the editing suite that the film maker be like other artists and create their art at their own pace without outside influence.
Amiri's Child
has been an integral part of my life for so long. I have lived and breathed the story and characters over the extended shoots. So it is magic to at last see
Amiri's Child
coming together as a film. With each new cut, with each trim of the material, the story gains more momentum and is shaping up to be a powerful piece of cinema.
Today I edited a scene which has become a particular favourite. Arapeta is besotted with Kōkā's haughty foster daughter and is determined to make an impression on her. In an
homage
to Charles Dickens and
Great Expectations
, Arapeta plucks up courage to ask his Aunt Hinemoa for advice: "Aunty, I want to be a gentleman and win Miriama's heart!"