The trilogy reaches a dramatic climax at the Gypsy Rose Caravan!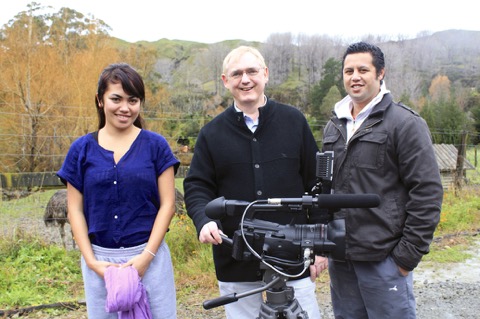 Ebony Tuhaka, David Whittet and Shane Luke on location at the Gypsy Rose caravan.
Like Kōkā's crystal ball, the Gypsy Rose caravan has become a central character in the film, exerting an influence far beyond its role in the story, even determining fate of the protagonists. The caravan has featured in each shoot during the extended filming of the
Amiri & Aroha
trilogy.
As we drove out to Morere this morning, Ebony commented that I hard given her and Shane all the emotionally demanding scenes in these first two days of shooting! Certainly today's climactic scenes at the caravan were intense and powerful, these scenes forming the penultimate sequence of the trilogy.
Shane and Ebony were again on top form, even eclipsing yesterday's exceptional performances. It is testament to Shane and Ebony's consummate skills that they could pull off such an achievement working out of sequence and in the cramped conditions of the caravan.
I can't wait to edit this gripping scene and see these performances come to life!
Shane and Ebony do a run through of the scene in the barn next to the caravan at Marie Lepper's farm.