The camera never lies - or does it?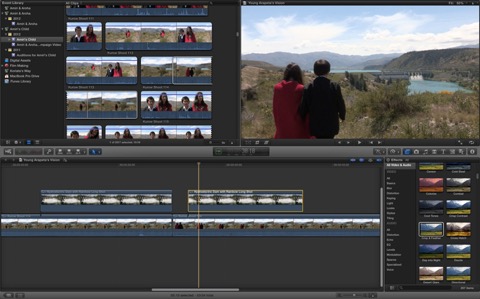 Editing a key scene in Amiri's Child in Final Cut Pro X
Whoever coined the phrase
the camera never lies
was definitely not a film maker!
I am editing one of the key scenes in
Amiri's Child
which is a case in point. I have been talking about digital compositing techniques in recent posts and this scene presents a specific challenge.
In this pivotal sequence, the young Arapeta confides his vision of the future with Miriama. As they walk past a hydroelectric power station, Arapeta is entranced by the force of the pounding water and eulogizes about energy, foreshadowing his turbulent career in the power industry.
I flew the cast to my home in Kurow to shoot this sequence with the magnificent hydroelectric dams of the Waitaki Valley as the backdrop. As fate would have it, water levels in the lakes were low and there was no surging water in the spillway of the dams during the week the cast were at Kurow!
The force of water is crucial to the scene; the power of the dam precipitates Arapeta's vision. This mirrors the scene in
Amiri & Aroha
where Aroha find solace with at the mighty Rere falls, connecting Arapeta with his mother's fate.
With time constraints and a micro budget, I only had the one week available for these scenes. So I was forced to shoot with the empty spillway and add the water in post production.
When working of a key scene like this in post production, it is essential that every last detail is absolutely perfect if the audience are to believe that the scene is real. The slightest imperfection can loss the audience and make them aware that they are watching a film. I have spent many hours lining up the spillway on the camera original shot with a superimposed shot of cascading water, getting the shadows and currents created by the flowing water exactly right…
As I have said before, it's art that conceals art!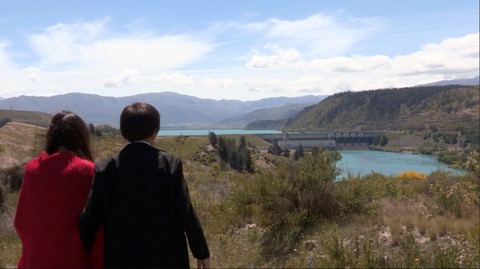 The camera original shot with the dam spillway empty.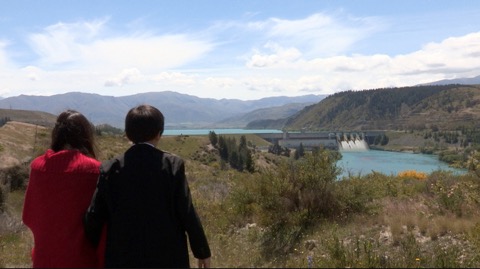 Work in progress: a digital intermediate showing pounding water composited into the dam spillway. The next task is to create the ripples and water flow in the lake below the dam, the details that make the scene look real!