Filming is underway for the final shoot of the Amiri & Aroha trilogy
David Whittet directs John Stainton as Koriata and Ebony Tuhaka as Miriama in Gisborne's Botanical Gardens.
With just three days to shoot Miriama's remaining scenes before actress Ebony Tuhaka leaves for Australia, the pressure was on for the final shoot of the trilogy. Starting with a tense encounter between Koriata and Miriama in a park, I was delighted to see the obvious on screen chemistry between John Stainton (who plays Koriata) and Ebony. This will make the next couple of days much easier!
Despite the pressure of our looming deadline and the intensity of today's scenes, the shoot was a joy! Great performances and good fun in between takes. The very best of Indy film making!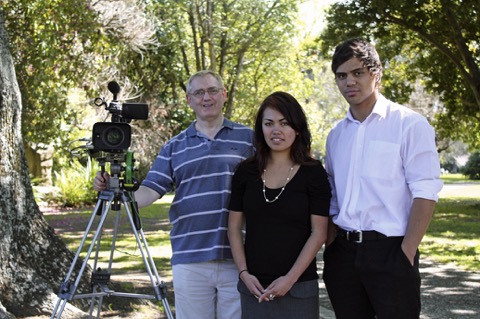 David Whittet, Ebony Tuhaka and John Stainton