David and Goliath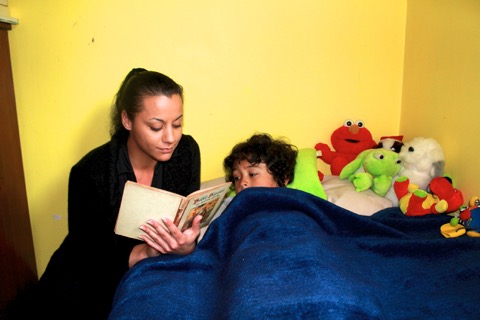 "David ran fearlessly towards the giant Goliath, he put some stones into his sling, and skillfully flung it so that it hit Goliath on the forehead. Goliath fell dead to the ground". Arapeta, my darling. You must be like David in the story. You must be strong. You must avenge anyone who stands in your way. Be strong. Make Mummy proud of you. Mummy has to go away. Be strong. You must be strong when I have gone away.
- Aroha reading Arapeta a bedtime story in
Amiri's Child
A
Māori David and Goliath
was the original working title for
Amiri's Child
and was the concept I had in mind when I wrote the teaser scene at the end of
Amiri & Aroha
. Kristel delivered the scene beautifully today. I was close to tears watching the scene behind the camera, but perhaps even more telling is that Kristel's sister, watching the scene from a corner of the set, was in tears.