First Recce for Amiri's Child - the next chapter in the Aroha Trilogy.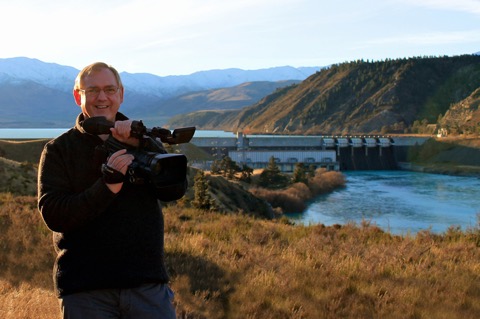 Inspired by the success of
Amiri & Aroha
in the Best Shorts competition, I have started work on my next production,
Amiri's Child
.
Nothing seems to speak louder than awards in Hollywood, and since the press release for the Best Shorts competition, I have received many offers to buy the script and the concept of
Amiri & Aroha.
Despite some very significant offers, I have resisted the temptation to sell out as I want to develop the characters and progress the story into the
Amiri & Aroha Trilogy
, which will consist of three companion films, and I want to write a novel covering the entire story.
I have just completed the first draft of the script for
Amiri's Child
. The film will follow on directly from the teaser at the end of
Amiri & Aroha
and tell the story of Arapeta, Amiri and Aroha's son.
Since moving to Kurow, I have been inspired by the powerful hydroelectric dams in the Waitaki Valley and believe that they will provide a dramatic background for the new film. Arapeta proves a true son of his father and a powerful businessman; struggle in the power industry seems a natural extension of Amiri's conquest of the water bottling industry at Rere…
Today we made our first recce for
Amiri's Child
, scouting locations and making some test shots. There is a tremendous excitement when pre-production gets started and dreams gradually turn to reality...