Life imitates art - The road to the Gypsy Rose Caravan
Life sometimes really does seem to imitate art. Or is it just that
Amiri & Aroha
has taken on a life of its own and threatening to become master of our destiny?
In the dramatic conclusion to the trilogy, Arapeta goes back to Kōkā's caravan one last time, hoping to find answers to the turmoil his life has become. Years have passed, so the caravan needs to look run down and following Kōkā's death, abandoned at a remote location.
Whilst trying to work out how to achieve this look, I spoke to Marie Lepper, the owner of the Gypsy Rose caravan. Marie told me how the caravan was deteriorating in the harsh conditions out at Morere Hot Springs and how since our last shoot, she has moved the caravan to her home, retire in a sheltered corner of her property. Perfect for our final caravan scene!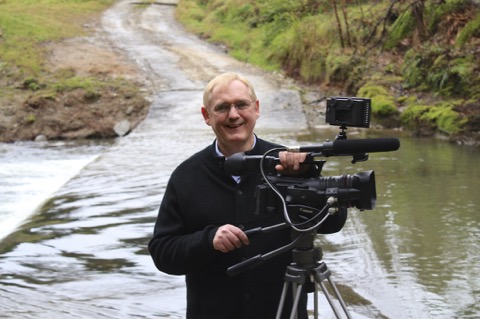 The journey to Marie Lepper's home to shoot the final caravan scenes proved equally momentous. The property is only accessible via a deep ford (and with the heavy rain in the Gisborne region of late, getting through was touch and go!) and a precarious swing bridge. We shot some atmospheric shots of Arapeta reflecting on his life as he walks across the swing bridge on his way to the caravan. Whilst the shots were very effective, whilst filming it occurred to me that this would be the perfect location for Amiri's hideaway whilst on the run from the authorities and his enemies. Such an isolated and inaccessible property would be the perfect fortress for Amiri! And I could see a wonderful shot with Amiri hustling a terrified Aroha across the swing bridge...
Yes, truly life does imitate art!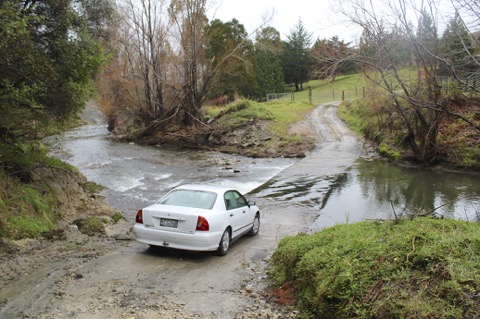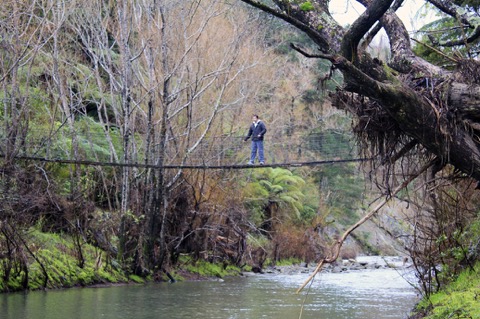 Our precarious journey to the Gypsy Rose caravan for today's shoot proved far reaching, inspiring a dramatic sequence of Amiri's flight from his enemies.