An electric scene between Arapeta & Tamati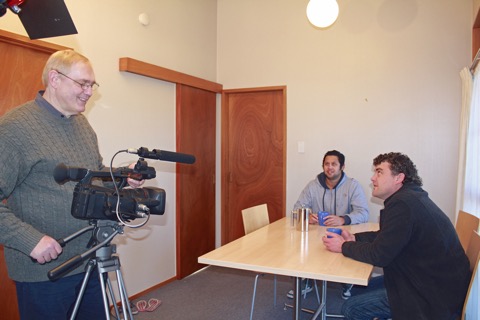 David Whittet directs Shane Luke as Arapeta and Brent Forge as Tamati in this dramatic scene for Rere's Children.
Preview audiences for the work in progress rough cut of
Amiri's Child
are universal in their praise of the electric atmosphere in the scenes between Arapera (played by Shane Luke) and Tamati (Brent Forge). Arapeta and Tamati have been friends and business colleagues for years. They thought they knew everything about each other until Tamati discovers a bitter secret which is forcing Arapeta on a path of self destruction.
Shane and Brent played the parts to perfection in
Amiri's Child
, creating chemistry between the two characters which galvanized the screen whenever they were both present. Determined to capture this in
Rere's Children
, I wrote a scene where Tamati visits his friend after Miriama has left and Arapeta has lost his job following the revelations about his father Amiri. Arapeta is now living in a modest flat, which we recreated this morning in our motel room.
The atmosphere was every bit as charged as Shane and Brent played out the scene this morning. As a director, it is a delight to work with two actors on the top of their form, bringing such intensity and meaning to the scene.
Today's scene reaches a heart-rending conclusion which is a defining moment in the final film and will be a definite highlight of
Rere's Children
.