It's a Wrap!!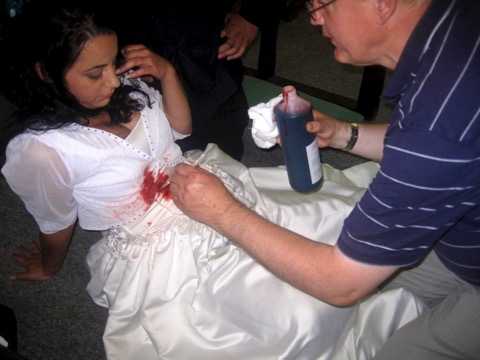 Four months after commencing principal photography,
Amiri & Aroha
wrapped today with the re-shoot of the wedding and the introduction to the Marae ceremony at the Te Poho-O-Rawiri Marae.
The shoot was a logistic nightmare, with a large number of extras for both the wedding scenes and the Marae shoot. And a wedding on film is every bit as stressful as a real life wedding, with last minute adjustments to the bride's dress and make-up, the bridesmaid and the bridal party looking just right... Indeed, the stress levels of our screen bride and groom were high throughout the shoot! Not to mention the director!
One of the movie lights caught fire, the generator broke down, the best man couldn't make it and had to be recast at the last minute, all these potential disasters added to an already demanding day's shooting.
But the results were amazing, every bit justifying that difficult decision I had made some weeks back to re-shoot the wedding. I had wanted to - quite literally - get blood on Amiri's hands. Michael and I had developed Amiri's character into a very smooth, very controlled business man and today the character lost that self control and we saw the raw anger beneath the surface.
On a personal level, it was wonderful to have my wife Ooy involved in the film; she played a wedding guest. That means all my family have been involved and indeed we all appear in the film!